UPDATE SEPTEMBER 2022
Results of THREE sets of water quality samples done by Enviro Lac Gauvreau volunteers
LAC GAUVREAU TEST RESULTS FOR JUNE, JULY & AUGUST, 2022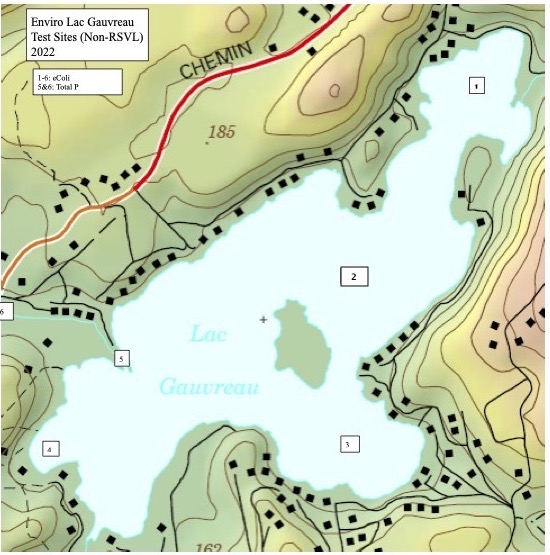 INTERPRETATIONS
E.coli - Bacteria (E.coli)

samples from all lake testing sites in June, July and August indicate levels well within those

considered safe for swimming

.

Although Parent Creek levels are extremely high, the E.coli reading at Site 5 at the creek's outlet into the lake is low.
Total Phosphorus (TP) - Sampling from three sites in June indicated a range from 17 to 20 (μg/L), the highest being in Parent Creek (Site 6). J

uly and August results from only two locations (Sites 5 and 6) show that warmer temperatures and greater boating activity may have resulted in the much higher phosphorous levels, doubling in Parent Creek

.

According to the table below (source), Total Phosphorus (TP) levels place Lac Gauvreau at the threshold between Mesotrophic and Eutrophic.

Mesotrophic

lakes have an intermediate level of productivity. These lakes are commonly clear water lakes and ponds with beds of submerged aquatic plants and medium levels of nutrients. Eutrophic lakes have high biological productivity with excessive levels of nitrogen and phosphorus that support an abundance of aquatic plants and algae. Occasionally, an excessive algal bloom will occur.
RSVL TEST RESULTS FOR JUNE, 2022 SAMPLES
Results of the first set of full RSVL test samples conducted in June 2022 have been released.
According to RSVL testing protocol,
samples are to be collected only at the deepest part of the lake
(
the pit)
. More samples will be taken as summer progresses, and analysis/verdict will be available only at the end of the season. Enviro Lac Gauvreau is now fully supported by the "
Réseau de surveillance volontaire des lacs
" (RSVL).
INTERPRETATIONS AVAILABLE AT THE END OF THE SEASON ONLY
RSVL is a provincial organization tasked with developing a picture of the health of lakes across the Province by helping members monitor parameters that affect the water quality and degree of aging of their lakes. The program measures levels of total phosphorous (TP), dissolved organic carbon (COD) and chlorophyll A (chl a). Following the RSVL protocol, our volunteers take water samples near the deepest part of the lake (the "pit"). This is done once a month in June, July and August. Transparency measurements are also taken, once every two weeks, using a Secchi disc. RSVL then arranges for pick-up of the samples, analysis and production of reports.